About Lil' Kickers
Our mission is to inspire! Lil' Kickers is an award-winning child development program that uses soccer to help children ages 18 months to 9 years tackle important developmental milestones through age-appropriate and fun-filled activities. We inspire kids to be active, strong, confident and well-balanced in order to unleash their awesome both on and off the field.
Classes are 50-minutes and are led by highly trained, energetic coaches who engage kids and help maintain their enthusiasm by challenging and encouraging them to learn and accomplish new things – preparing them for school, playdates, team sports, and beyond. More than one million kids have participated in Lil' Kickers across the country.
Safety Precautions
Check out the video of safety precautions taken for LK and SI classes.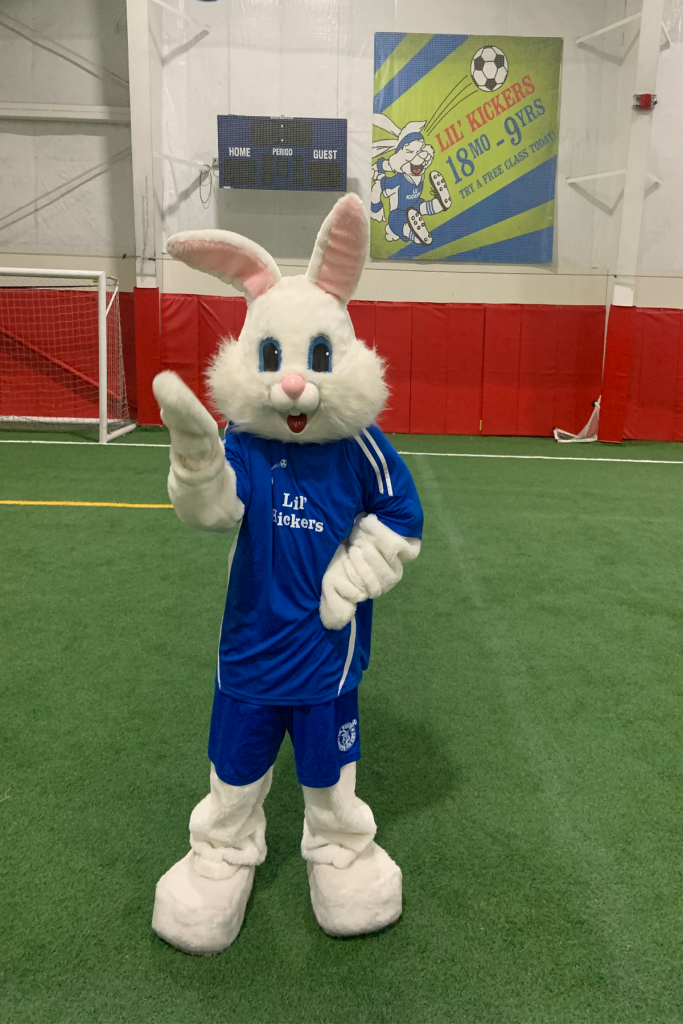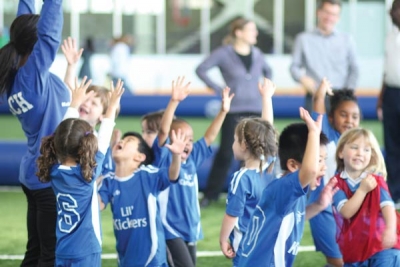 JACKRABBITS
3-4 years
(Intermediate)
Jackrabbits classes are designed to help transition children into non-competitive team play. Children learn basic soccer skills (dribbling, passing, trapping, scoring) and are introduced to more one-ball- oriented games and scrimmaging. Scrimmages focus on building teamwork and helping players understand how to apply skills in different situations. Some non-competitive soccer games are introduced.
50-minute class
Child/coach ratio: 7:1
Click HERE to schedule a Jackrabbits Free Trial.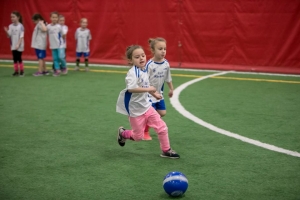 BIG FEET
5-6 years
(Beginner)
Big Feet classes are for five and six-year-olds who have not played soccer before. These classes concentrate on basic soccer skills (dribbling, passing, trapping, scoring) and building confidence on the field. Kids are introduced to the concepts of sportsmanship and team play. Kids will play some small-sided, non-competitive soccer games.
50-minute class
Child/coach ratio: 12:1
Click HERE to schedule a Big Feet Free Trial.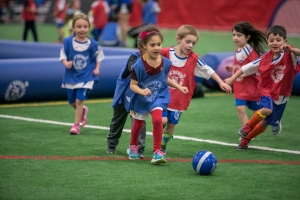 MICRO CLASSES
4-5 years
(Intermediate)
Micro Classes are developmental and non-competitive for intermediate players. Proper soccer techniques are progressively introduced and as kids grow and master various skills, they are introduced to more complex soccer skills. Micro Classes are for kids who have played soccer before either in Lil' Kickers or another program.
50-minute class (15-20 minutes of instruction; 20-25 minutes of scrimmaging)
Teams for scrimmage field a maximum of four players at a time
Everyone gets equal playing time
No goalies, no score-keeping, no league standings
Child/coach ratio: 12:1
Click HERE to schedule a Micro Classes Free Trial.
What people are saying about Danvers Indoor Sports Lil' Kickers:
"Awesome coaches and a great program! Love Lil' Kickers!"
"Such a great program for littles in our community!"
"We love all of the different games they play at Lil' Kickers! Every week my son looks forward to his class."
"My grandchildren go to Lil' Kickers. They love it. Want to say thank you to all of the coaches that make this program awesome."
"My daughter goes to class and has the best time with the Coaches and other kids! It's way more than just soccer…….it's all about following directions, having fun with the other kids in a team atmosphere, and learning to be coachable! The Coaches are SOOOOOO Good with the kids!! We LOVE IT!"
"Such an amazing program for my son. We started right away at 18months old. Program teaches so much more than soccer skills. Also great structured family time."